Welcome!

TO THE ATTORNEY GENERAL CURLING LEAGUE WEB SITE AT: www.agcurling.ca!

Hi all! Our new 2019-2020 season starts Monday, September 30th!! Early this year! Let's get at it! Yeah!





The Attorney General Curling League is a fun mixed league that curls at the Fort Rouge Curling Club on Mondays at 5:00 PM from mid-October through March! This site is a main source of information about our league for everyone!

Enjoy! And scroll down for announcements and other stuff!

New Team! Hey! We managed to recruit a new team! Please welcome the Degner team! They will start October 7th. And hopefully get a chance to schedule a game some time against the Roe team who got a bye last week.

No More Ties!! Yes! At our skips meeting Sept 30, we voted to eliminate ties, to improve the tie-breaking and Grand Aggregate determinations. So! If two teams are tied after their last end, each team throws one rock, and closest to the pin wins. Any regular team member can throw, no spares! And teams can sweep their own rocks, spares included. But no sweeping your opponent's "skip's" rock!

Looking for a spare? All skips have been sent a League Contact list for this season. Which has spares listed at the bottom! Also, check any teams that have more than 4 players... perhaps their extra players are looking for a game! Contact their skips and see! Can't hurt.

New Website Address. Yes we continue at our now not as new website address, agcurling.ca! Any comments (or problems) please let me know!


Sad News. Just a note about the passing of a former Monday curling skip, Tracy Vandersteen. Click here for the Free Press Passages notice.


Fun Stuff:
Are you interested in photography? Would you be interested in taking team pictures for our league? Or just some action shots? If you are, let me know! My email is below! Thanks!


MONDAY CURLING VIDEO! CLICK HERE to see the Weakerthans interview and Tournament Of Hearts song featuring all of us as supporting cast! This does go back a few years... Miss those guys. While you're there YouTubing check out some of their other videos!!


Further research: The boys with fellow Canadian artist Jim Bryson: Freeways in the Frontyard ... And a really cool video of Jim with another pretty well-known Jim... Somewhere Else ... Cool man!


Please forward any comments or suggestions to me at: glenmoor@shaw.ca


---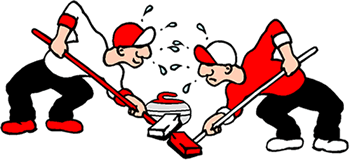 Click here to get to the full page (with the menu bar to the left).


---
Updated Tuesday, January 7 at 10:08 PM
Email: glenmoor@shaw.ca